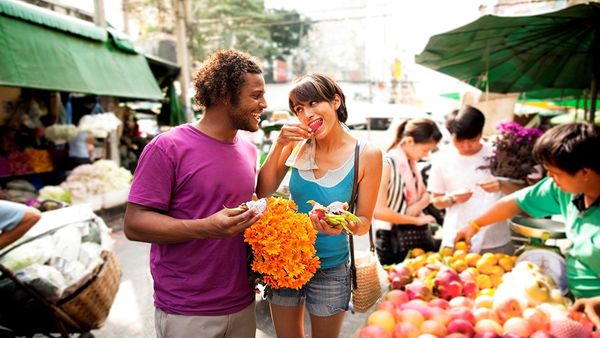 Holidaying doesn't have to mess with your routine
(Helen Hawkes | Presented by Swissôtel Bangkok)
Staying fit and healthy when you travel is tricky for anyone who likes to clock up frequent flyer points. Overwhelmed by new sights and routines, it's easy to bench exercise, eating well, or even much-needed sleep.
But these easy tips, that prioritise well-being, can help you feel as good on the road as you do at home.
Place wellness first
When you're choosing a hotel, think self-care and vitality i.e. goodbye make-do; hello best you.
Look for on-site fitness facilities, so you never need miss a workout; relaxation options, to soothe travel tension; fresh, natural foods to keep your gut healthy while you're dining out; and in-room extras such as air filtration or adjustable lighting, as part of sustainable, health-friendly room design.
Leave jetlag at the airport
If you're tired and disoriented, dehydrated, or have an upset stomach, it could be post-flight fatigue.
To the rescue: water therapy that replenishes moisture and relaxes your nervous system. Try a sauna room session in the hotel's fitness centre, a luxurious bath, or a shower that uses water pressure to unknot flight-tight muscles.
Fresh juices heaving with vitamin-rich greens can also boost hydration and immunity, while a pure aromatherapy essence can ease anxiety and sleeplessness.
Sightsee your way to fitness
Ask the concierge for nearby attractions that you can walk or jog to, or try one of Swissôtel's Vitality Guides that help you re-energise your body and mind while you explore the neighbourhood. They're all available on Google Maps so you can use your smartphone to follow the route.
In-room exercise equipment or fitness guides make working out between sight-seeing or business meetings simple. Even a gentle, 20-minute stretch can reduce muscle stiffness and help you rest better as well as enjoy the sights, says exercise physiologist Mark McKeon.
Eat for vitality
No need to raid the bacon bain marie at brekky. Jumpstart your day with seasonal fruit, yoghurt, Bircher muesli or scrambled eggs, that are nutrient-dense and kilojoule-low.
Grab an extra serving of fresh fruit for a high-energy and low sugar on-the-go snack, suggests clinical nutritionist Alex Joy Hamlin.
Super-healthy room service or dining options focus on vegetables, fruits and lean protein and, ideally, offer gluten-free, vegetarian and lactose-free meals and snacks.
Soothe your mind
A morning or evening relaxation routine helps you stay grounded, says McKeon. Mindfulness is key.
Try meditation, an inspirational podcast, or even a simple pastime like colouring that gets you in the flow – the place where your body shifts from stressed-out into parasympathetic or regenerative mode.
Make friends without leaving your hotel
Research proves connecting with others is essential to mental and physical well-being. Network while you flex at the on-site gym, after some reviving laps of the hotel pool, or while you sip a mocktail.
Luxury extras
Nothing says self-care more than a professional, full-body massage at the hotel spa. You'll boost feelgood endorphins and release wellness-sapping tension.
Life is a journey. Live it well. To explore Swissôtel Bangkok today, visit: https://www.swissotel.com/hotels/bangkok-ratchada/
This article was originally published by Nine Honey https://travel.nine.com.au/destinations/wellbeing-tips-for-travel/b06cf589-0ac0-4ac9-b34a-0338b1498a64